The Perfect Stocking Stuffer: Little Feet Coffee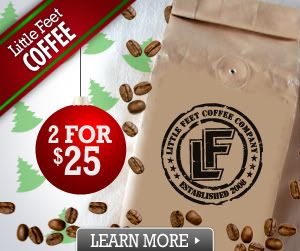 $25 for TWO bags! Each bag contains 12 ounces of 100% whole bean Arabica Coffee. Little Feet Coffee is Certified Rainforest Alliance, Certified Organic and purchased directly from our farmers at a premium price higher than current Fair Trade Prices. Each bag we sell helps support youth soccer in coffee growing regions; currently Honduras and Guatemala.
We purchase our coffee from Cooperativa Cafeletera Capucas Limitada in Las Capucas, Honduras. This cooperative of just over 100 farmers, is in an area ideal for coffee growing due to the good soil, climate conditions and the high altitude which is between 1200 to 1800m. Capucas coffee is a mild coffee with full aroma and body and fine acidity. Its special flavor component is the chocolate taste, which makes Capucas one of the best specialty coffees of this country of Central America..